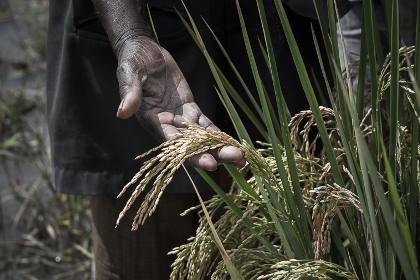 News
SUMMER CHARITY EVENT OF THE DREYER FOUNDATION
on June 29, 2019 in Berlin, Villa Bernadotte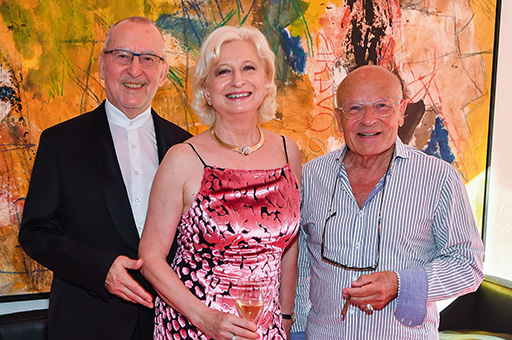 On the evening of the 29th of June 2019 the entrepreneurial couple Jenny Dreyer-Gsell and Gisbert Dreyer, as well as the director, film producer and Oscar winner Volker Schlöndorff hosted the annual summer charity event of the Dreyer Foundation. They celebrated the already traditional summer charity event at Villa Bernadotte in Berlin-Dahlem with more than 100 guests - philanthropically committed personalities, supporters and friends - among them Tom Buhrow, Tini Countess Rothkirch, H.E. Dr. Gordan Grlic Radman and many others.
That evening, Volker Schlöndorff and the Dreyers presented a new school project, which is to be built in Dano for another 300 Burkinabe children. Volker Schlöndorff has agreed to take over the patronage for this new preschool. Actors Martina Gedeck and Pierre Sanoussi-Bliss are also supporters of this new school project as part of the foundation's work.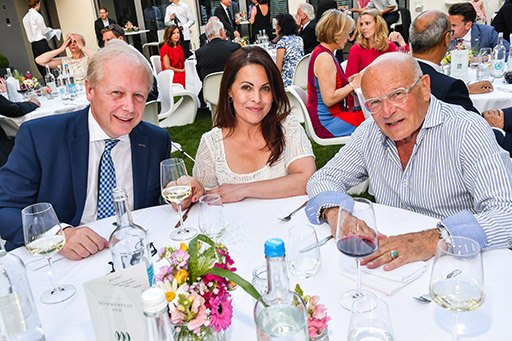 The evening was musically accompanied by the wonderful melodies of Andrej Hermlin and his Swing Dance Orchestra. The orchestra had already played in London, Hong Kong, Milan, New York and other cities with his compositions of Glenn Miller, Benny Goodman, Duke Ellington, Frank Sinatra and other stars.
The guests were treated to culinary delights by RitterRitchard, one of the most successful young catering companies, known for their unique food concepts. Olaf Ritter and Karsten Richard stand for creative catering cuisine at the highest level.
Ab Samstag, den 19. Januar auf ARTE:
Square für Künstler
Carte Blanche für Volker Schlöndorff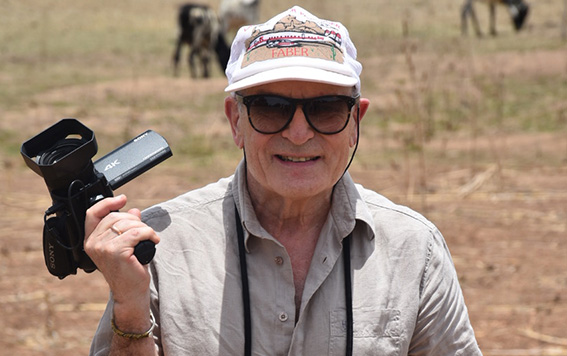 »Ein Reiskorn in der Sahel Zone«
Ein Film von Volker Schlöndorff


«Ich habe glückliche Menschen gesehen – in Afrika. Das allein mag für viele, die seit der Berlin Konferenz von 1885 nur Schreckensmeldungen von dem «schwarzen» Kontinent kennen, überraschend klingen», sagt Regisseur Volker Schlöndorff.
In Burkina Faso hat er ein landwirtschaftliches Projekt besucht. Ausgerechnet Reis wird dort in einer der ärmsten Regionen der Welt angebaut – und zwar erfolgreich. Gisbert Dreyer, ein deutscher Unternehmer, betreut seit 30 Jahren vor Ort, mit persönlichem Einsatz und eigenem Kapital, dieses Projekt, das auch eine mustergültige Schule und sanitäre Einrichtungen umfasst. Über zwanzig dörfliche Kooperativen bewirtschaften inzwischen 500 Hektar Reisfelder, bald sollen es 2000 Hektar werden, eines Tages könnte das Land den Eigenbedarf decken.
Der Film zeigt, was möglich ist: Vorausgesetzt, man hat genügend Startkapital, setzt sich persönlich ein, begleitet die Initiative langfristig, plant über Jahrzehnte und bezieht die Bevölkerung bei jedem Schritt mit ein.
Sehen sie den Film über folgendem Link in der arte Mediathek: 
https://www.arte.tv/de/videos/073049-025-A/square-fuer-kuenstler/
»Reisanbau in der Sahelzone mit Kooperativenansatz«
Vortrag Gisbert Dreyer, 16.01.2019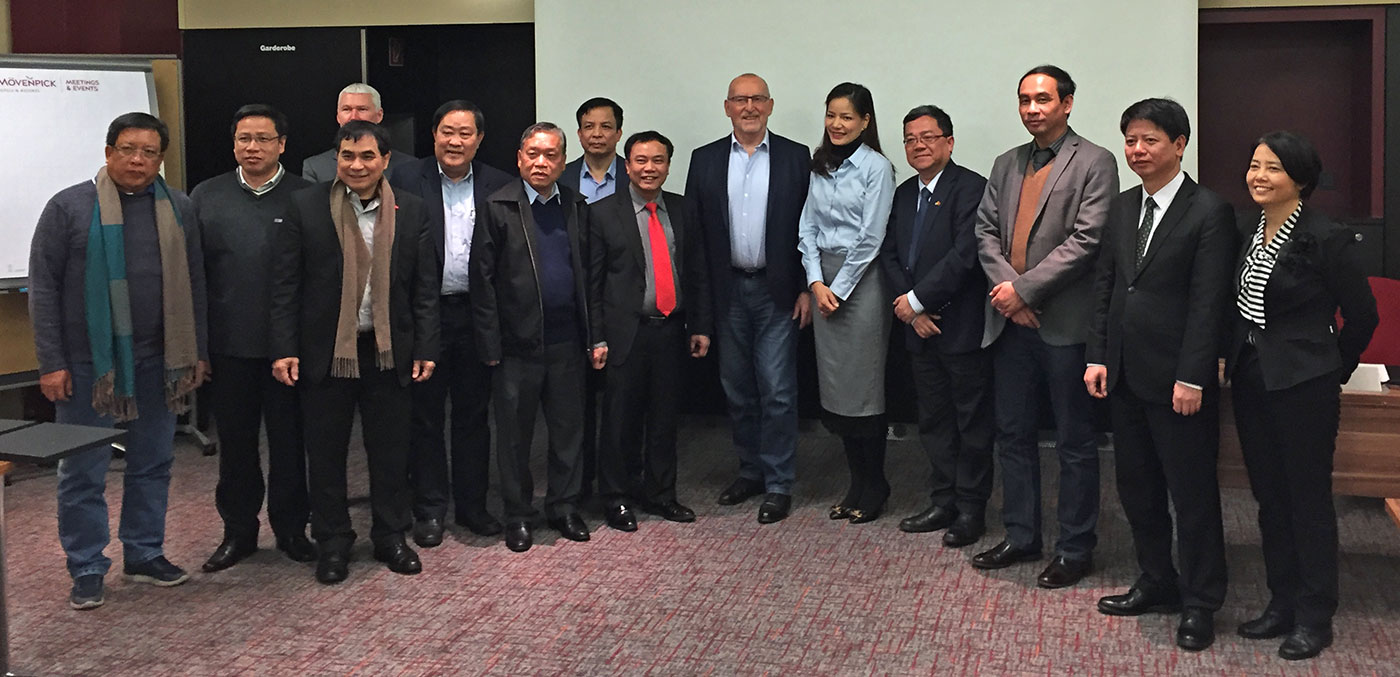 Im Rahmen der Internationalen Zusammenarbeit für nachhaltige Entwicklung und im Auftrag des Bundesministeriums für wirtschaftliche Zusammenarbeit und Entwicklung (BMZ) hat die Deutsche Gesellschaft für Internationale Zusammenarbeit (GIZ) GmbH eine Delegation des Ministeriums für Landwirtschaft und ländliche Entwicklung sowie der Akademie für Agrarwissenschaften der Sozialistischen Republik Vietnam nach Deutschland eingeladen. 
Die Delegation unter der Leitung von Herrn Le Duc Thinh, Director General, Department of Cooperatives and Rural Development, bestand aus 10 Delegierten. 
Die Informationsreise soll den Gästen einen Einblick in die Klimawandelanpassungen durch Innovationen in der Agrar- und Ernährungswirtschaft bieten und erfolgreiche Ansätze digitaler und technologischer Innovation aufzeigen. 
Schwerpunkte des Austausches waren die Wertschöpfungskette Reis, Eigentumsfragen und kooperative Landnutzung sowie der Aufbau und die Entwicklung von Bauernkooperativen.
Da die Dreyer Stiftung im Rahmen der Grünen Innovationszentren ein großes Reisprojekt in Burkina Faso betreibt, wurde Gisbert Dreyer  von der GIZ eingeladen über  seine Erfahrungen beim Reisanbau in Burkina Faso vor der vietnamesischen Delegation zu sprechen.
Für die sehr interessante Veranstaltung bedankten sich die Gäste bei Gisbert Dreyer sehr herzlich, auch mit der Übergabe eines Gastgeschenks.
»Chancen schaffen – Zukunft entwickeln«
Jour fixe Africa, 3.10.2018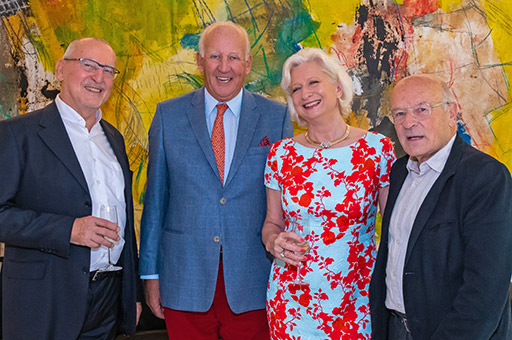 Unter dem Motto »Chancen schaffen – Zukunft entwickeln« fand am 3.Oktober 2018 ein Brunch in der Villa Bernadotte statt. In diesem Rahmen gab es eine Vorpremiere des Dokumentarfilms »Dano Reisetagebuch« von Volker Schlöndorff, welcher persönlich als Gastgeber mit Jenny Dreyer-Gsell und Gisbert Dreyer über die Eindücke in Burkina Faso berichtete. Dieses Veranstaltung mit interessanten Gästen aus verschiedenen gesellschaftlichen Bereichen, wie Film, Politik, Stiftungen etc. war ein Erfolg, denn durch interessante Gespräche war der ein oder andere interessiert auf verschiedenen Ebenen mitzuwirken.
»Ein Reiskorn in der Sahelzone« so Volker Schlöndorff/Zwischenstand Reisanbau 2018
Bei seiner letzten Reise im Spätsommer 2018 nach Burkina Faso hat sich Gisbert Dreyer vom vielversprechenden Stand des Reisanbaus in Dano überzeugen können. »Wir erwarten ein sehr gutes Ernteergebnis im November«, verspricht Dr. Laurent Sedogo, Vorstand der Dreyer Stiftung vor Ort in Dano. »Ein Durchschnittsertrag von 4 Tonnen pro Hektar sollte mindestens erreicht werden.« Das wären dann ca. 2.000 Tonnen Paddy Reis, die von den Bauernkooperativen an die Reisfabrik verkauft werden können, und damit einen Ernteertrag von etwa 400.000 Euro erzielen werden.
Aber Dreyers vergessen bei keiner Reise ihre burkinabischen Kinder zu besuchen. Auch wird bald wieder eine weitere Schule gebraucht werden. Jenny Dreyer Gsell engagiert sich hier ganz persönlich und wird bei Ihrer nächsten Charity ein neues Schulpojekt vorstellen und Förderer begeistern.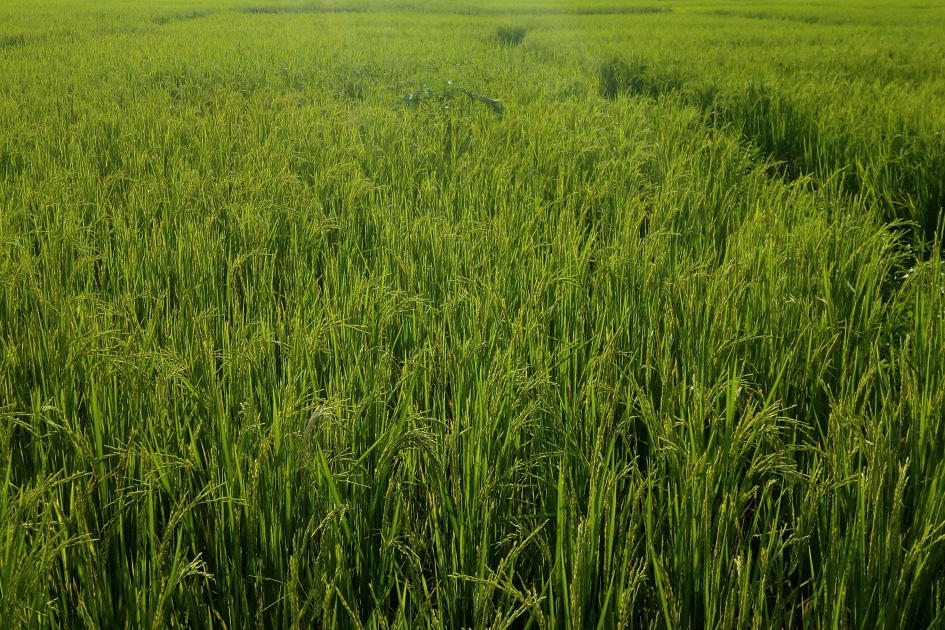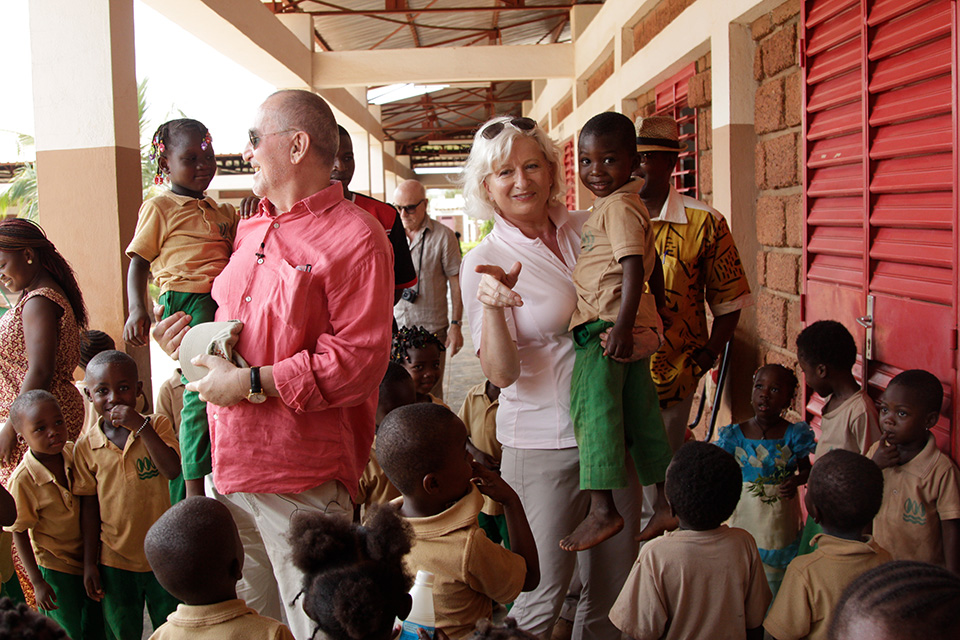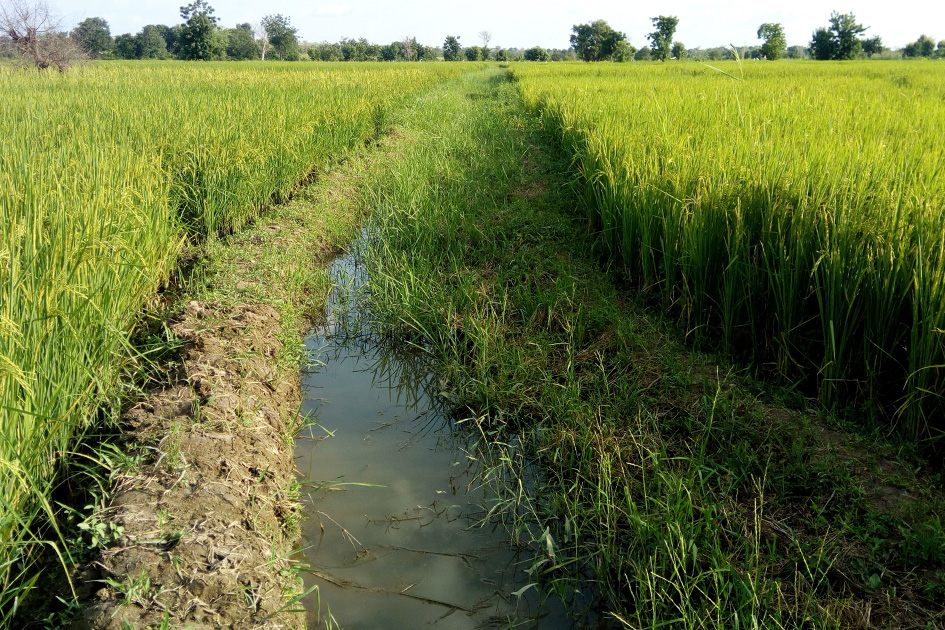 The directors of the Dreyer Foundation
at their Summer party in Berlin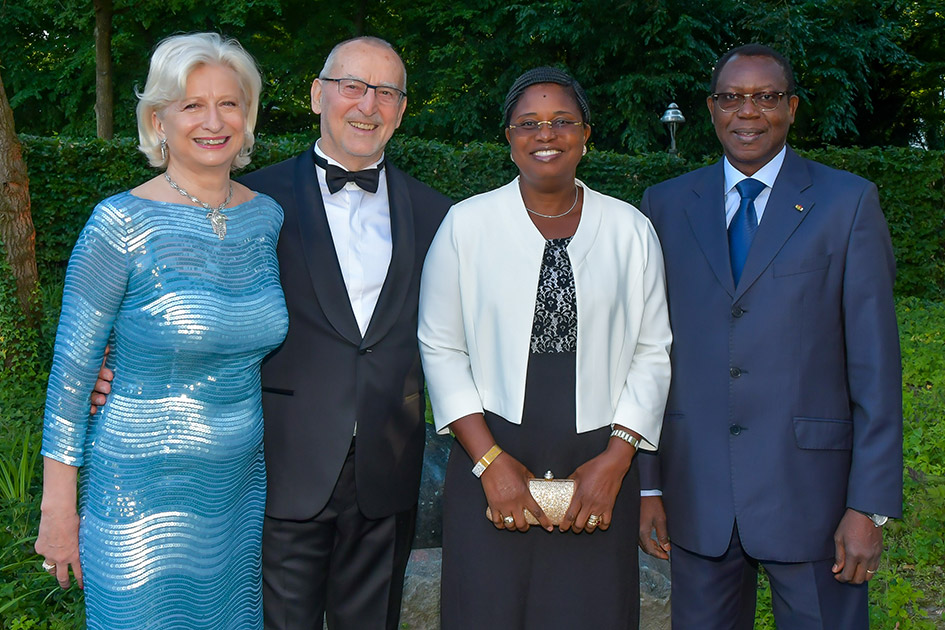 With more than 100 guests Jenny and Gisbert Dreyer celebrated their summer party on 30th June 2018 at seat of the at the Dreyer Foundation.
As a special surprise, Volker Schlöndorff's new movie about the work of the Dreyer Foundation in Burkina Faso was shown as a pre-premiere.
International guests from politics, business, film, art as well as private families interested in the development sector spent a wonderful evening together end enjoyed the music of Andrej Hermlin and his Swing Dance Orchestra.
Among them: S.E. Shi Mingde – ambassador of the Republic of China, art collector Erich Marx , State Secretary of the Federal Foreign Office Walter J. Lindner, Dr. Peter Ramsauer – former federal Minister, Vladimir Kotenev – former ambassador of the Russian Federation, designer Arrey Enow Kono, Dayan Kodua – actress and initiator of the Initiative for Ghana, Tini Gräfin Rothkirch, Regine Sixt, Gesine Schwan, Dr. Freiherr Armin von Grießenbeck, Prof. Dr. Werner Leitner, Sebastian Czaja, Klaus Bresser and many more.
At this evening did not collects donations for their own Foundation but for the work of "Licht für die Welt e.V.". For that reason, Prof. Dr. med. Siegfried Priglinger, Chief of the Eyeclinik at the Ludwig-Maximilians- University in Munich, reported about their engagement in Westafrica and expressed his appreciation of the work the Dreyer Foundation is doing in Westafrica.
German director, screenwriter and movie producer
Volker Schlöndorff in Dano – April 2018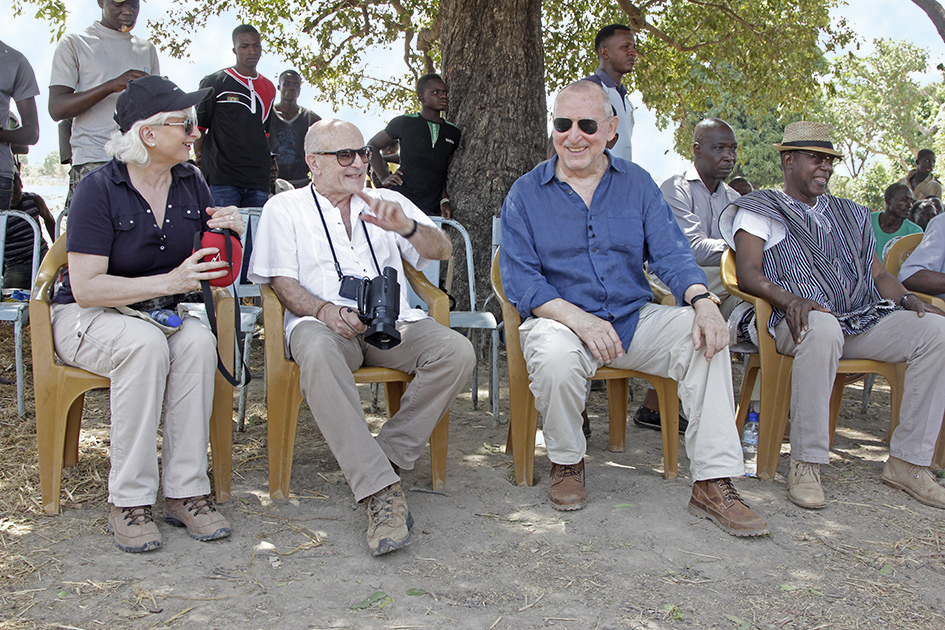 Volker Schlöndorff, the successful German director, screenwriter and movie producer accompanied Jenny and Gisbert Dreyer to their foundation work in Dano. Filled with enthusiasm about the work of the Dreyer Foundation he decided to realize a film project for television. During the film making, Volker Schlöndorff was assisted by a Burkinabe film crew whose enthusiasm inspired him. Impressed by the events and the experience, Volker Schlöndorff is already thinking about a sequel.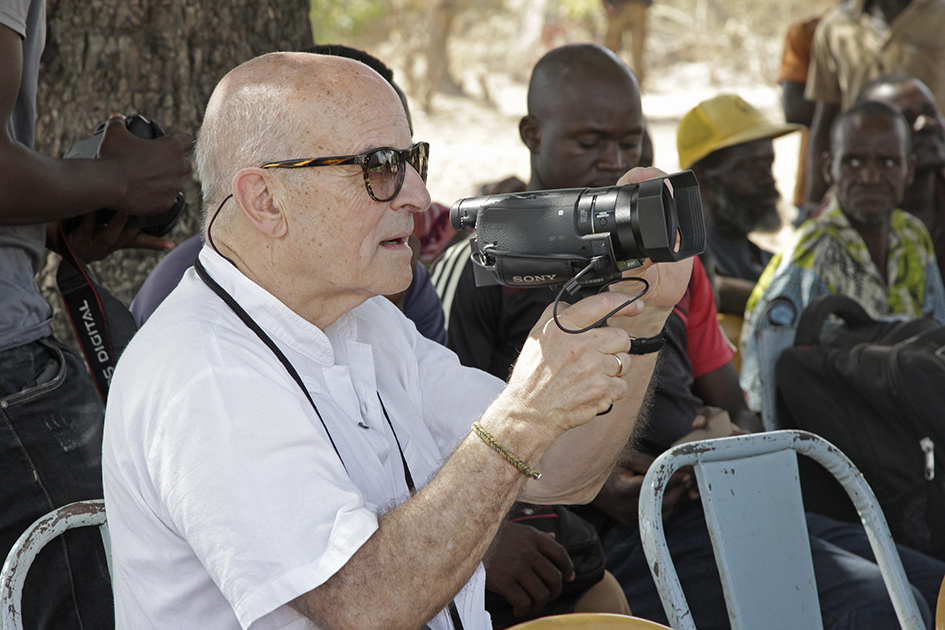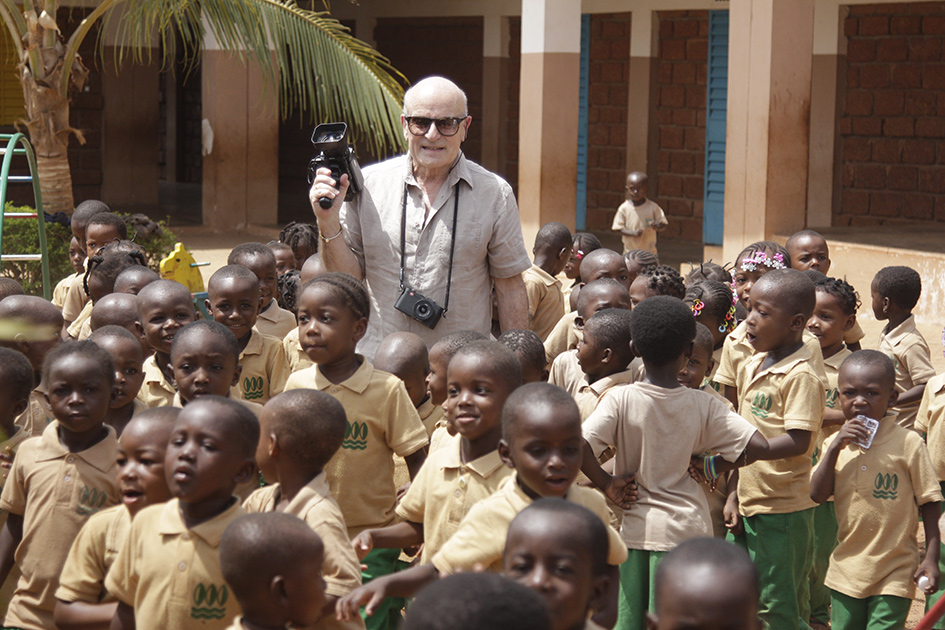 New Years reception of the BMZ at the "Green week 2018"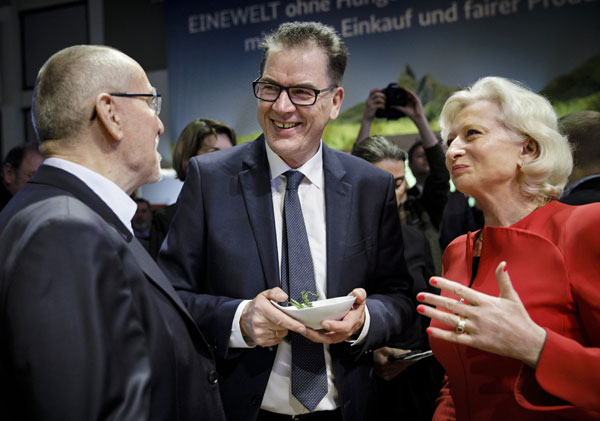 The Federal Ministry for Economic Cooperation and Development (BMZ) presented itself anew in 2018 at "Green Week", the world's largest agricultural fair in Berlin. This time the BMZ informed its audience under the motto "ONEWORLD without hunger is possible - with fair purchasing and fair production". This year again, Jenny and Gisbert Dreyer met with the Federal Minister for Economic Cooperation and Development, Dr. Gerd Müller, to discuss the Dreyer Foundation's current nutrition projects in West Africa.
The Dreyer Foundation in the new book by Gerd Müller, Federal Minister for Economic Cooperation and Development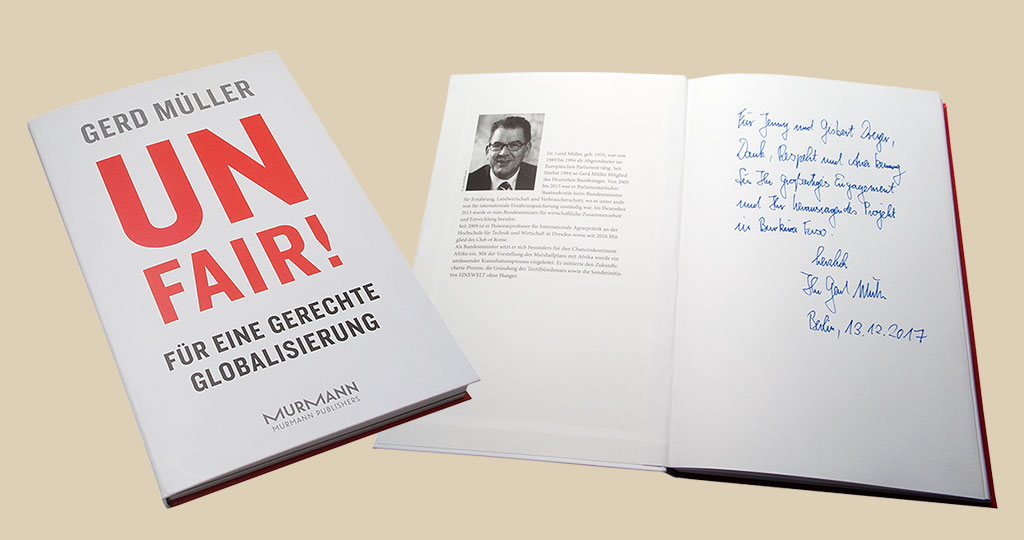 In his new book "Unfair", Gerd Müller describes the challenges of our time in relation to globalisation and fair, ecological trade. Following his visit to the Dreyer Foundation in Burkina Faso, he described the project in his book as groundbreaking in terms of solving the problems of poverty and selfdetermination.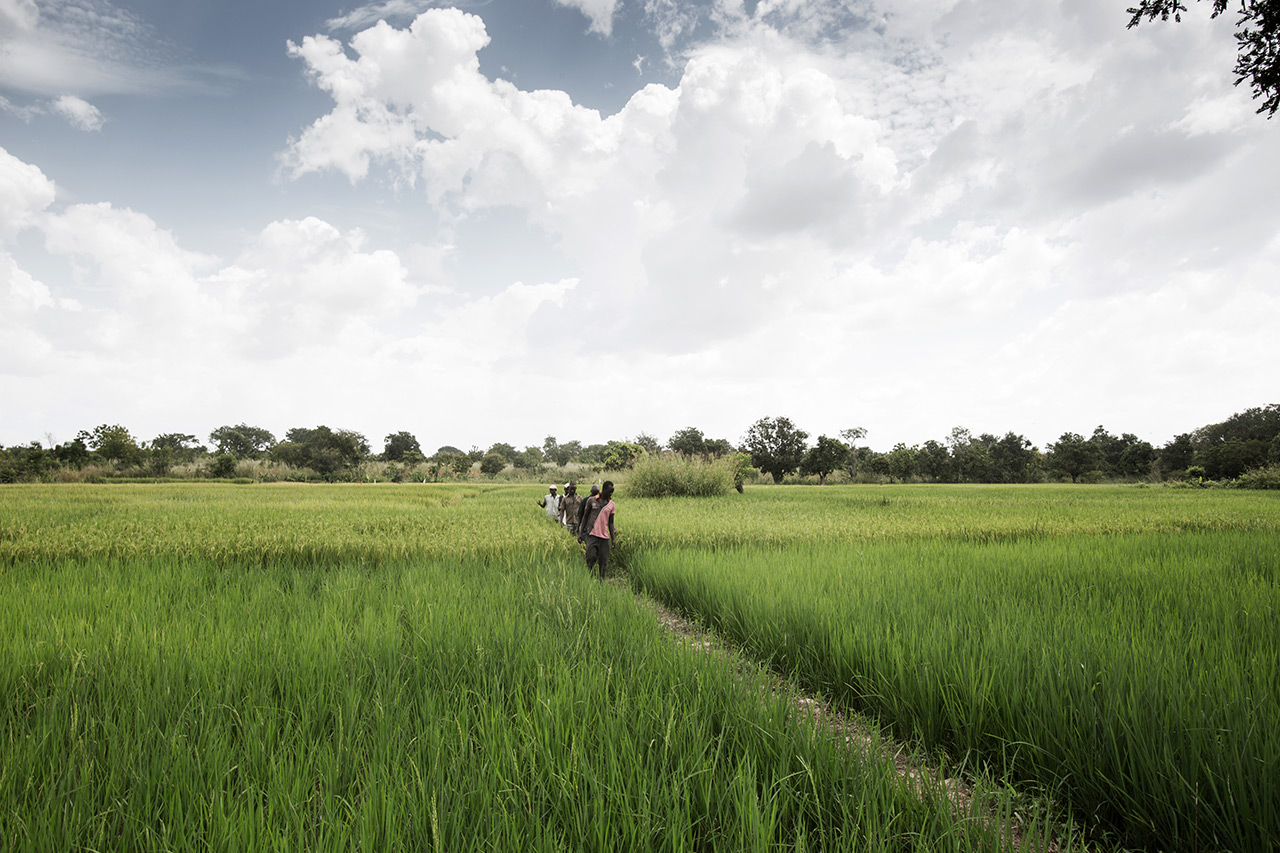 On page 84, Müller writes in his book:
"… The fate of rural areas has been ignored for far too long. Here the granaries of the world can be found. Small farmers use about half of the world's arable land - but in most cases not very effectively. An example of this is Burkina Faso in West Africa, where 80 percent of the population live from agriculture, mostly from subsistence farming. Currently, half of the rice required by Burkina Faso is imported, notwithstanding that the country could feed itself.
This is evidenced by the Dreyer Foundation located in Munich. It is magnificent what Jenny and Gisbert Dreyer have achieved over the past decades in Dano, in the South West of Burkina Faso. On the way to Dano we drove 50 kilometers through heat and dust, when suddenly a paradise appeared in the middle of the desert."
mehr lesen
Think tank initiative by the Dreyer Foundation for a new African policy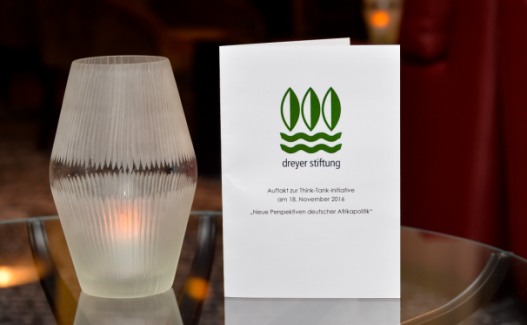 On the occassion of their think tank kick-off themed "Building the future of the world together" the Dreyer Foundation welcomed representatives of the BMZ, the German Foreign Office, the industry and other institutions on 18 November 2016. Gisbert Dreyer introduced the initiative. Ambassador Walter Lindner spoke about the necessity of rethinking African policy in order to cope with the challenges of african migration with innovative concepts.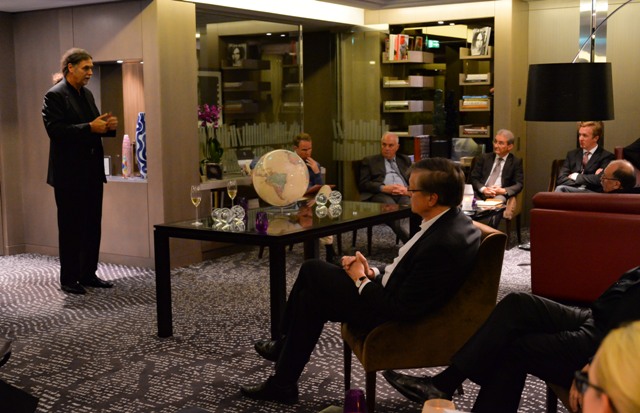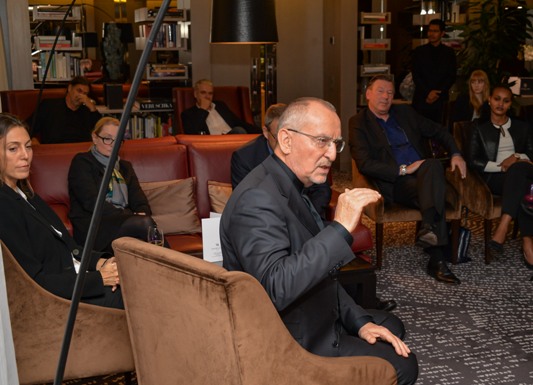 Considering the enormous problems Ingo Badoreck, General Secretary of the German Africa Foundation, supported the Dreyer Foundation's initiative to bring the relevant players of the german African policy together. This was also affirmed by representatives of companies such as Gauff GmbH, Claas KG as well as by representatives from institutions such as the Konrad Adenauer Foundation, the German-African Business Association and the German Institute for International and Security Affairs.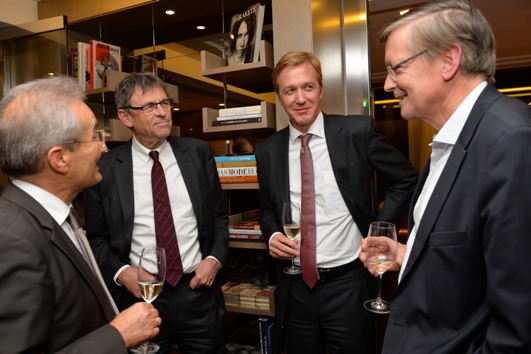 During the discussions, a very knowledgeable and constructive exchange of thoughts arose. The result was to take up and support ​​the Dreyer Foundation initiative. The future participation of german stakeholders in african policy was explicitly assured. Based on that positive response the Dreyer Foundation decided to launch the Think Tank officially in spring 2017.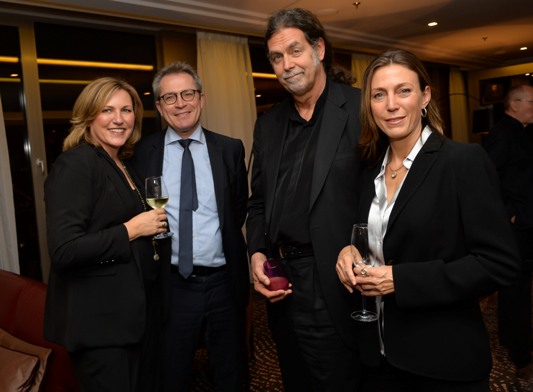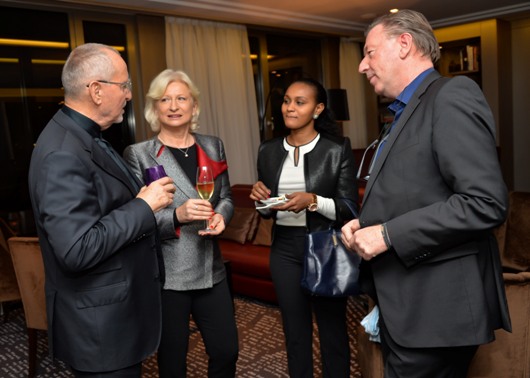 Ambassador Dr. Dr. Dietrich Pohl visits Dano
In November 2016 the German Ambassador Dr. Dr. Dietrich Pohl found the opportunity to visit our Foundation Center in Dano, which he personally felt highly interesting and encouraging: "The visit to Dano at the Dreyer Foundation has impressed me, and it is clear that personal commitment, technical expertise and the mobilization of the local forces in Burkina Faso can achieve a great deal, and the now operational solar system allows the refinement and the best possible utilization of the rice harvest in Dano and beyond. The use of the Dreyer Foundation in the context of the "One World Without Hunger" program has yielded very good results: 130 hectares have already been developed for the cultivation of rice, soon 250 are expected. I was very impressed by the local population, who, with the help of the Dreyer Foundation, will be able to take their fate into their own hands on the now newly developed areas and to improve their living conditions fundamentally. "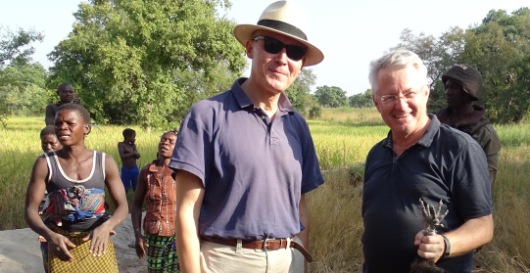 First meeting with new minister of agriculture
Since January 2016, the new government of Roche Kaboré and his Prime Minister Paul Kaba Thieba officiates in Burkina Faso. Jacob Ouedraogo is the new minister of agriculture and water projects. The first meeting between him and Gisbert Dreyer took place at the ministry in Ouagadougou. There, Gisbert Dreyer introduced the minister to the projects of the foundation and gave him a photo book about the lives, people and activities of the foundation in Dano. The minister of agriculture expresses the country's gratitude for the long-standing work of the foundation in Dano and hopes to have a firsthand impression during his upcoming visit in Dano.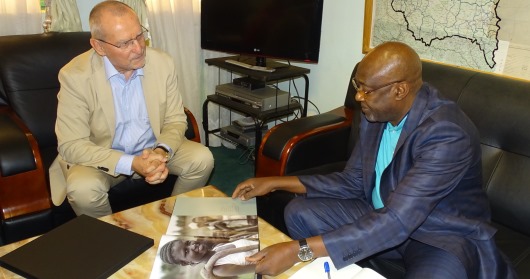 Rice cultivation in the village of Yo
The village of Yo is one of 10 villages around Dano, where the Dreyer foundation implements an innovative rice cultivation project sponsored by the BMZ. In 2016, approx. 25ha marshland shall be reclaimed and be used for rice production. For this purpose, a village meeting took already place in February. Locals received picks for cultivation and the head of agricultural projects of the foundation Abdoulaye Ouédraogo gave intensive instructions about the project and its implementation. Sowing of the rice will take place in June/July, the expected rice harvest will be in the end of October/beginning of November. From the beginning of this year, 100 heads of families of Yo (35 women, 65 men) can therefore ensure a sustainable and long-term livelihood for their families.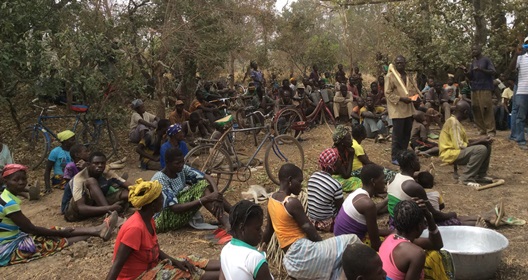 Cooperation with traditional authorities
In order to discuss the issues of waste management and cleanliness in the city of Dano, Gisbert Dreyer met with Naonfa II, the "Roi de Dano". As traditional chief, the "Roi de Dano" still wields special authority among local population, Gisbert Dreyer asked for his support. Thanks to his assistance, town dwellers and villagers will be made aware of growing waste disposal problems and shall permanently and actively participate in waste disposal and cleanliness of cities and squares.
New Year's reception of the Federal Ministry of Economic Cooperation and Development at the International Green Week-Fair in Berlin, jan 20, 2016
For the first time, the Federal Ministry of Economic Cooperation and Development presented itself at the world's biggest agricultural fair in Berlin. Within the special show "A world without hunger is possible" at the International Green Week, the Federal Ministry provided information about their projects to fight world-wide hunger and invited visitors of the fair to exchange ideas. There, Jenny and Gisbert Dreyer met the Federal Minister of Economic Cooperation and Development, Dr. Gerd Müller, and talked about ongoing nutrition projects of the Dreyer foundation in Westafrica.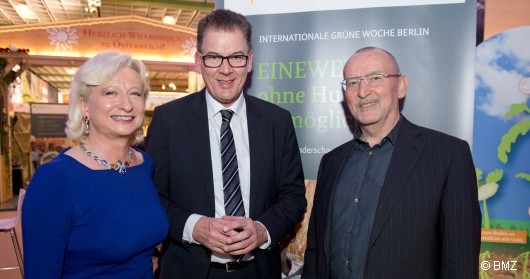 Scholarship for Abel Some
Abel Some is one of the first orphans the Dreyer foundation took care of. He has taken full advantage of his opportunities and benefited from the educational facilities in Dano: at first he went to primary school, subsequently he went to secondary school and now he earned a medical degree at the University of Quaga. At present he is writing his doctoral thesis about Moringa oleifera. In recognition of his scholary achievements, the dreyer foundation enables him to attend the first International moringa-congress in November 2015 in Malina, the Philippines.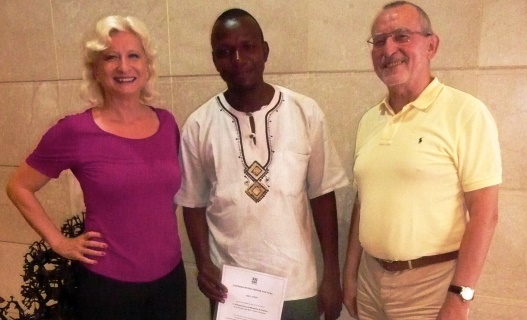 Federal Cross of Merit for Gisbert Dreyer
To honor the manifold merits for the extensive and sustainable development cooperation with Burkina Faso, the founder and directorate of the Dreyer Foundation Gisbert Dreyer received the Federal Cross of Merit on the ribbon of the Federal Republic of Germany from the Federal President on 2nd of March 2015. Ilse Aigner, the Bavarian minister of state for Economic Affairs and Media, Energy and Technology presents him the official document and the medal within a commemorative ceremony. This distinguished Service Award is the only general state decoration of the Republic of Germany. His awarded for remarkable achievements in the field of politics, economics, culture, arts and honorary work.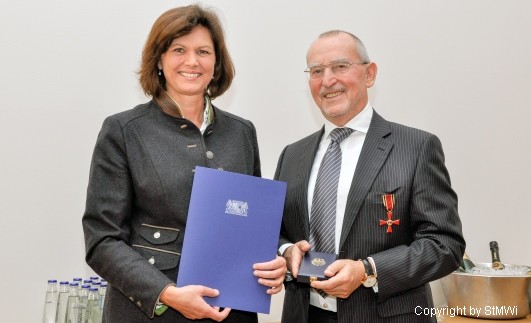 A new primary school in Dano
With the support of the Federal Ministry for Economic Cooperation and Development (BMZ), the Dreyer Foundation is going to build a new primary school in Dano within the second half of this year. With the construction of this primary school, 6 additional classrooms for approximately 300 children will be added to the schools, already built by the Dreyer Foundation. Til 2014, the Dreyer Foundation had already built classrooms for 2.600 children. The long term goal of the foundation is a long-lasting improvement of the educational situation in Dano for children from 4 to 19 years.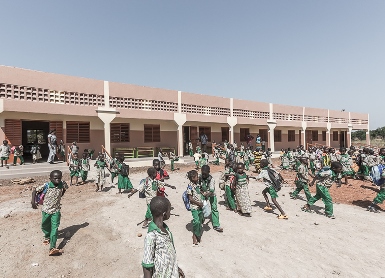 Rice cultivation in Dano
Under the guidance of the Dreyer foundation, approx. 315 hectare irrigated paddy fields were built since 2002 until the middle of the year 2015. These are managed by the 1000 peasants, organized in 12 cooperatives. The goal of the foundation is the expansion of the productive and sustainable rice production to approx. 600 hectares on til now unused wet lands in the community of Dano. This latest task is implemented on behalf of the initiative of the BMZ "A world without hunger". More than a thousand farming families, which have not cultivated any rice so far, shall profit from this project. The supervision and evaluation of the project is conducted with local partners and includes mentoring, supervision and control.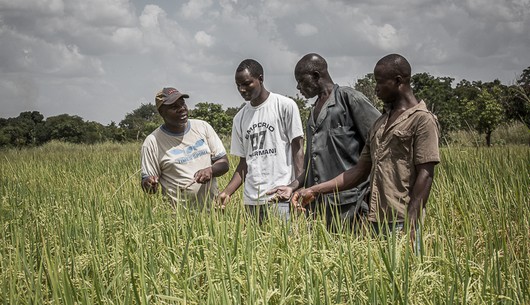 Innovative rice mill
On an area of 17 hectare, the Dreyer Foundation is currently developing an industrial project to process agricultural products. First part is the construction and the operation of an innovative rice processing plant: a factory to dehusk and preboil approximately 1.000 tons of rice per year. The necessary energy is produced by a solar thermal system with 22 parabolic mirrors with a reflecting surface of 440 square meters and a thermal gasification plant based on rice husks. This is the first rice processing of this kind in Westafrica.